Thomas Kinkade's Faith for all Seasons
from Bradford Exchange Checks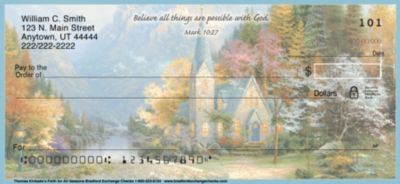 30% Discount on any order of $15 or more!
Enter offer code CSSAVE30 to Receive Your Savings!


Spread the Inspirational Joy of Welcoming Country Churches with Thomas Kinkade Art Personal Checks - Spread joy and hope wherever you go with these inspirational Thomas Kinkade personal checks available only from Bradford Exchange Checks(R)! There's a different Thomas Kinkade personal check design for each season - Spring Summer Autumn and Winter - and each is filled with the welcoming comfort of Mr. Kinkade's glorious chapel art! Meaningful quotes from the Bible highlight each beautiful image including: Believe all things are possible with God. - Mark 10:27; Rejoice. This is the day the Lord has made. - Psalms 118:24; Praise the Lord for He is good. His love endures forever. - Chronicles 16:34; and Love the Lord your God with all your heart. - Mark 12:50. The Thomas Kinkade Faith for all Seasons designer personal checks are available exclusively from Bradford Exchange Checks(R) and are expertly re-created with premium-quality check printing. Just think now every check you write will be an uplifting message of heavenly love! Order your Thomas Kinkade Faith for all Seasons personal check designs now! Pricing shown is for 2 boxes of Singles. Thomas Kinkade's Faith for all Seasons are available in single and duplicate check formats. Matching labels and checkbook cover are available.